Friday, October 5th, 2007
Due to popular demand, we've decided to continue our commentary on Penance. Thanks to everyone who gave us your feedback! We're going to comment on each page on the following Friday, so if you click back a page you can read our discussion of last week's Penance. And next week you'll see something else posted here. Enjoy!
- Commentary -
J.D.: Interesting story about this page.  I finished the last page in the morning of September 27th.  I took a nap, and then came back a few hours later to start work on the following page.  Only to discover that our graphics tablet had died while I slept.  Which meant we had to order one and hope that it would arrive in time for us to put up the second page after our hiatus on time.
Craig: That was gut-wrenching.  I mean, we were on hiatus for more than a year, and the second page we put up after returning was in danger of being late.
J.D.: Through no fault of our own!
Craig: Even so.  I was very happy when the tablet arrived the following Wednesday — just enough time for you to do the flats and shading for this week's Penance.
J.D.: That worked out well.
Craig: I drew inspiration for Rex's pose in panel 4 from the cover of the Blind Guardian album Nightfall in Middle-Earth.  It's one of my favorite albums and great to listen to when working on Penance.
J.D.: Or walking to the grocery store.
Craig: I noticed you developed the character to the right of Rex a bit more than I did in my pencils.  Tell me about him.
J.D.: As I was working on him, and looking at the soft pencils that you had done, he kind of began to look like a half-breed whose one parent was an archon and the other was something akin to a centaur.  Therefore, he has a mane of hair that extends onto his wings instead of feathers.  And his boots cover hooves rather than feet.
Craig: That's really cool.  One of the things I love about working with you is that I sometimes get as surprised as the readers when a new page of Penance goes up. 

  For example, here's a before and after.  The left picture is the pencils that I delivered to J.D., and the right picture is what she made out of it.  Cool, huh?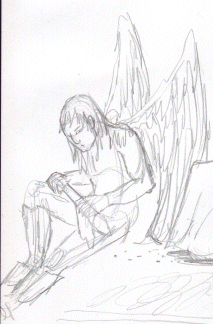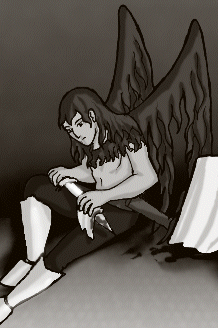 Craig: My pencils aren't usually that sketchy, are they?
J.D.: It depends on what you're drawing.  Primary characters tend to come out pretty clearly.  Background figures — well, I have a lot of latitude with them, let's just put it that way.